References...
I have many kitten buyers who fortunately are both happy with their kitten and with the process and cooperation with me.
In the following you can read a little more about some of my buyers' experience of CatsbyLove.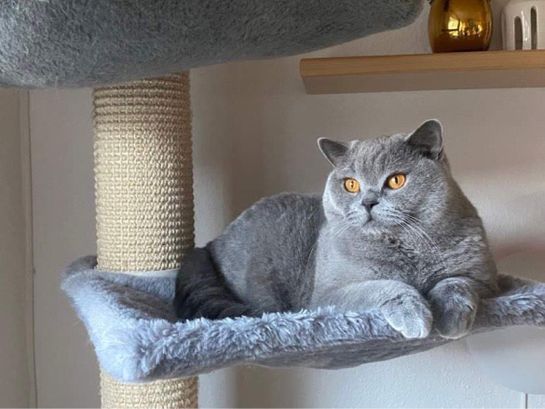 Lene and Morten
Linus after Divia Das and Amor Fabjanski, born March 2021
"We've had Brits for the past 18 years. And when we wanted a new kitten, we bought our fantastic Linus from Hanne😻Catsbylove.
Linus is a lovely cat, he is always right where we are, not overbearing BUT always right where we are. He is beautiful, good at playing a lot by himself and very curious and loving 😻
We found Hanne and her little cattery through another breeder who could recommend Hanne and her beautiful cats 😻
We are so happy for Linus, who has just turned 2 years old ❤️"
(April 2023)
Kathrine
Bufas after Wiki's Ida and Philip Plush Angel
"In 2018 my family and I bought Catsbyloves Bufas after Wiki's Ida and Philip Plush Angel.
Hanne gave me good and knowledgeable guidance throughout the purchase process and followed up afterwards to see if everything was ok. I felt from the start that I had chosen the right place to buy my cat!
The whole process surrounding the purchase has been a really good experience, and today we have the most beautiful adult cat, with the biggest personality and who is a valued family member.
He has never failed in the slightest and is generally a very healthy, healthy and well-functioning cat with a big ego 😉
I can only give Hanne and Catsbylove the best recommendations 😊"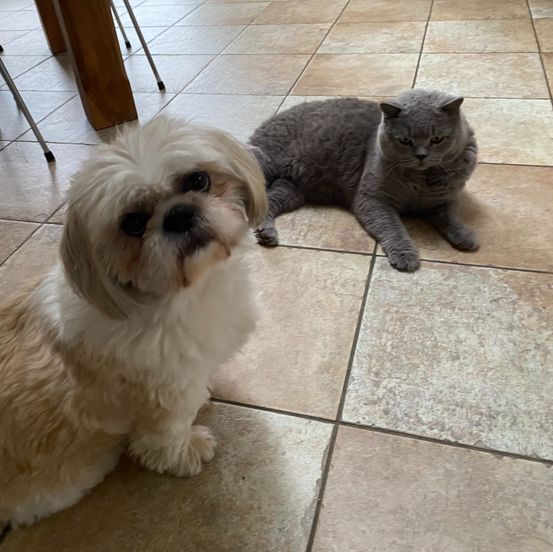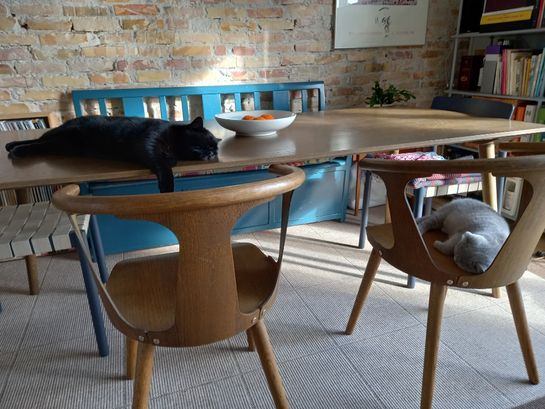 Maria
Vera born 17.11.22. from Rosa and Gabrial, and Vincent born 08.08.22 from Bora Bora (Stella) and Maximus von Blau Prinz
I am very happy with both my cats. The process has been very satisfactory and informative.
If I wanted another cat later, I would not hesitate to get one from Catsbylove again. I got a lot of pictures while waiting which was nice.
I think it was very flexible to see the cats, which was very good.
I found Catsbylove via Google when I was specifically looking for a British Shorthair breeder and it looked very professional and informative and the website seemed very accessible. Both cats seem to enjoy each other very much.
Dorte
Monty og Winston from Divia Das og Amor Fabjanski, born March 2021
When we had decided that the next cats would be British Shorthairs, after a while we found Hanne's cattery online. Her way of breeding was just right for us.
From the moment we were told that we were to have two of Hanne's kittens, we were updated with photos, videos and emails. We also visited and greeted the kittens. It was so lovely to follow the two boys through the 12 weeks that passed until they were completely ours.
Hanne came and delivered small, beautiful teddy bears. They were/are gentle, loving, healthy, safe and full of numbers. We have received good guidance throughout.
After two years, they are still two beautiful boys, so we can only recommend Hanne's kittens.
Greetings Dorte, Monty and Winston 😻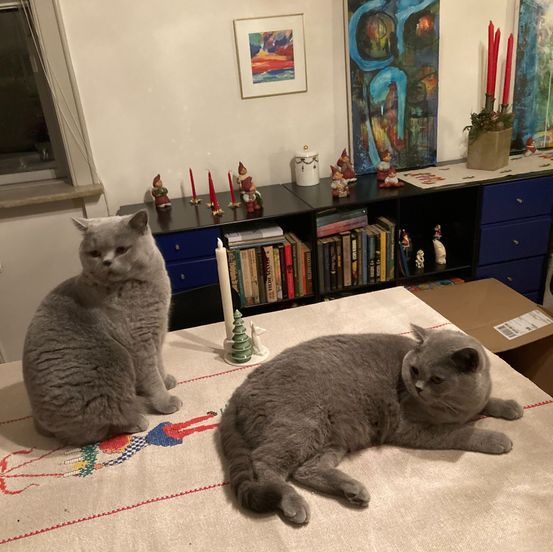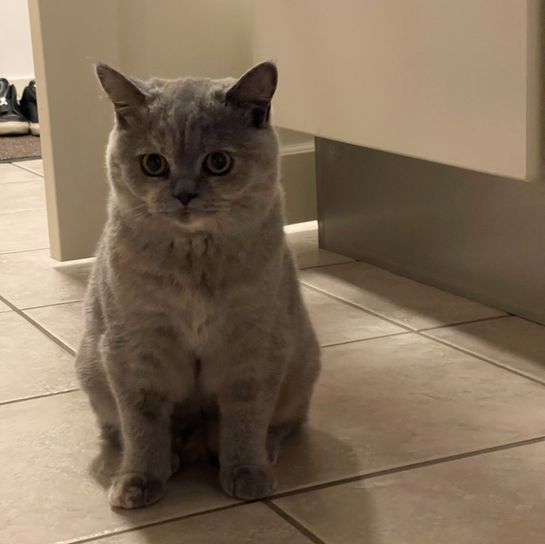 Nadja
Molly born April 2021 from Divia Das and Maximus von Blau Prinz
"I happened to come across Hanne's website on the internet after a long search for a cute British Shorthair. My experience with Hanne has been incredibly satisfying! I have felt in safe hands throughout the process as Hanne is just super competent, skilled and not least super loving.
One of the things that has meant the most to me is that I still have the freedom to write to Hanne if I need advice, regardless of what it is about. Even today, when Molly turns 1, Hanne is always ready to help and guide. It is clear to feel Hanne's endless love for her cats and that she wishes them the very best homes.
I would also like to add that it meant a lot to me that my future cat came from a loving and good place with good surroundings. That's why Hanne was the perfect breeder to contact."
Rikke and Robert
Eddie from Divia Das and Amor Fabjanski, born March 2021
We love Eddie, he is the cutest teddy bear boy we could think of!
Unfortunately, it is not returned in the same way... We have got ourselves a really small scarecrow that hides under the bed as soon as there are strange sounds in the house, or guests. He even hides from our daughter.
He 'talks' to us and likes to lie on the sofa next to us. He wants to be petted when he is hungry, and plays a lot, both with balls, 'bird' on a stick and our other cat, Carla.
The actual buying experience with Hanne was okay. We were happy to visit and meet him/you, and it was a nice send off when you came with him. However, we think that Eddie was 'too old' when we got him and he may have been too much alone with his mum as he is so 'scared' even after the 8 months he has lived with us.
Many greetings from Eddie, Robert and Rikke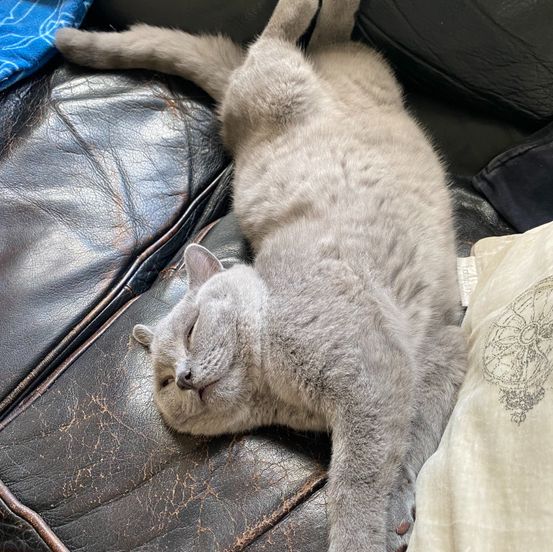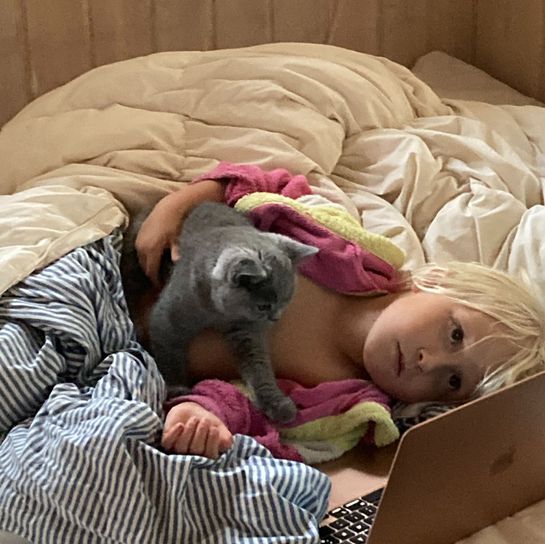 Karin
Liva born April 2020 from Ida and Ike the Lilac
When I bought Liva, I investigated various breeders and stumbled across Catsbylove. I found a loving and caring breeder. I could immediately feel the care for the kittens. When I had to have Liva, the breeder herself came out with it, together with nice from home.
Liva is a calm cat who fully lives up to the breed. She is quiet and calm and loving. It retracts if there is too much movement in the house. I have not followed the advice that it should be an indoor cat. Liva can move freely, she is never further away than she can hear my car and is ready to meet me. I'm glad I can see it using its senses.
Line
Wilma from Ida and Ike the Lilac, born April 2019
We bought Vilma in August 2019. It was by chance that we came across CatsByLove on the web, we were looking for a breeder of British Shorthair.
We quickly became very comfortable with Hanne, she has it under control and is very professional. She regularly sent pictures and small film clips of the kittens, and we visited her to see the little ones. It was important for her to have a good impression of us and what we could offer the cat, so she was sure that the cat would feel good.
Hanne took care of sterilization and vaccinations, so everything was done when we received the cat. She delivered the kitten to our home, that way she made sure that we lived up to what we had described to her.
We got a happy and healthy cat who has a nice nightlife and we are very happy for her!
We can confidently recommend CatsByLove!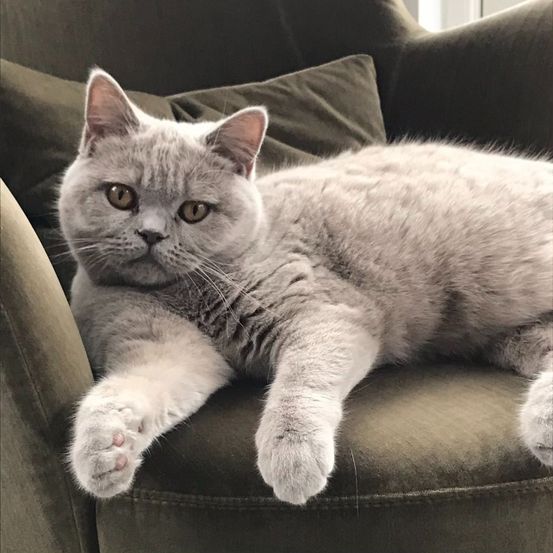 Sandra
Misja born April 2019 from Ida and Ike the Lilac,
Hanne's "CatsbyLove" is just that: Cat breeding with love. Lots of love.
I am a first-time buyer of a purebred cat. And at CatsbyLove, I have received thorough advice on everything from feed to behavior about the breed.
I am now the happy owner of a healthy, beautiful and sweet little ball of fur.
Hanne conducted a thorough interview of me to ensure that her kitten went to the right family.
Just as it is important what the breeder is like, it is equally important what the future owner is like.
I am more than satisfied. I can highly recommend Hanne and Catsbylove.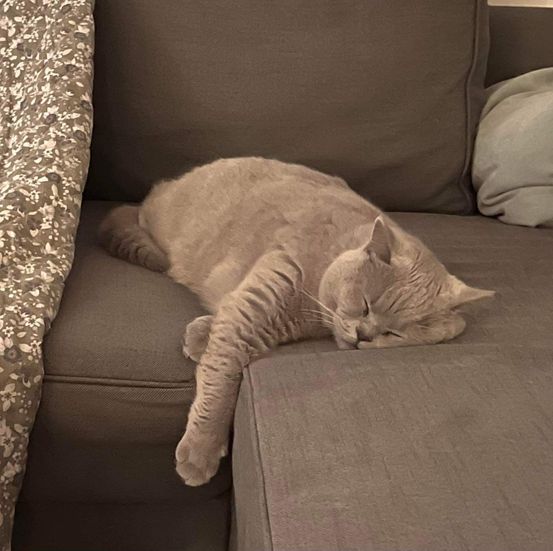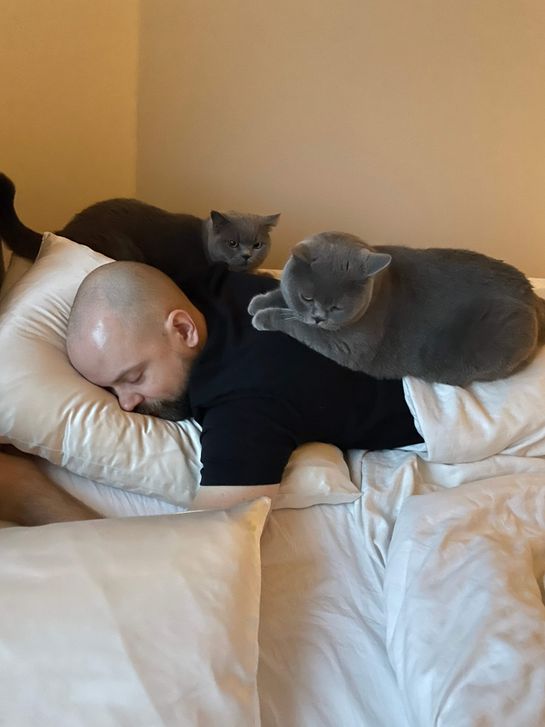 Natalia
Thomas born May 2018 from Ida og Filipp Plush Angel,
and Simon born February 2022 from Liva and Maximus von Blau Prinz
If you are looking for a cat breeder who consistently produces beautiful, smart and healthy cats, look no further than Hanne from DK Catsbylove. We had the pleasure of purchasing not one, but two cats from this breeder and we couldn't be happier with the experience.

Our first cat, whom we named Thomas, was simply amazing. From the moment we picked him up, we could tell he had been raised with care and love. He was already litter trained and had a calm and confident demeanor. As he grew up, we marveled at how intelligent he was. He quickly learned tricks, played fetch and even seemed to understand some basic commands. He was also incredibly healthy, with a shiny coat and clear eyes.

We were so impressed with our first cat that we decided to get another from the same breeder. This time we were looking for a more loving cat and we were not disappointed. Our other cat, whom we named Simon, was exceptionally sweet and friendly. He loved nothing more than to curl up on his lap and purr contentedly. We can't believe how gentle and loving he is.

Through our interaction with Hanne, we found her to be professional, knowledgeable and genuinely passionate about cats. She took the time to answer all of our questions and gave us detailed information on best practices and healthy food recommendations. We could see that she had put a lot of thought and care into raising these cats.

In summary, we cannot recommend Hanne and DK Catsbylove highly enough. If you are looking for a premium cat breeder that produces healthy, beautiful and intelligent cats, look no further. We are so grateful to have found her and will definitely return for our future feline companions.